Embark on a luxury tour through Morocco's vibrant cultural tapestry and breathtaking landscapes. From rolling desert dunes to dynamic cities, our trip unveils the richness of this diverse nation. Explore Casablanca's arts scene and Marrakech's lively souks, where fragrant spices and artisan treasures are a plenty. The heart of Marrakech, Jem el-Fnaa, pulses with nightly storytellers and musicians. Discover the Atlas Mountains bridging the Mediterranean coast and Sahara desert. Prepare for a journey of surprises and delights on this unforgettable Moroccan adventure."
Diva Moments
Winery lunch outside of Essaouira
Lunch with a Berber Family in the Atlas Mountains
City Tour of Casablanca + Hassan II Mosque Sunset
High Atlas Mountains with Berber village visit Women's Weaving co-operatives
Marjorelle Gardens in Marrakech + Berber Museum
The YSL Musuem, Marrakech
Photography Museum Marrakech
Perfume making at Musee du Parfume
Artisan + shopping tour in Marrakech
Bahia Palace, Ben Youssef Madrassa, Musee des Confluences – Marrakech
Vintage Side-Car excursion, Marrakech
Guided Souk tour in Marrakech
Home to a rich culture that goes far beyond what you might know of the souks of Marrakech, Morocco is a country that deserves a deeper exploration.
Morocco's blend of diverse cultures and landscapes is as romantic as it is compelling. It is a gateway to Africa from Europe, where ancient Berber, Roman, Arab, Spanish and French history meet and mix to create something incredibly – and uniquely – alluring.
On this tour, we capture the essence of Morocco ‐ the colour, history, contrasts and style ‐ as we journey through ancient Imperial cities, desert, the spectacular Atlas Mountains and the Atlantic Coast.
We will immerse ourselves into the country's exotic spirit; visiting artisanal carpet makers, nomadic traders and female designers. We will breathe in the rich aromas of the spice markets before grabbing a bargain in the labyrinth of souks, hunting for handmade slippers and authentic Berber rugs. We will sip mint tea and watch the going's on in Djemaa el Fna, and weave our way through Marrakech's age-old alleyways.
We stay in a combination of gorgeous Riads, Kasbahs, boutique hotels & luxury Tents.
We will get lost in the alleyways of the centuries‐old souks and artisan markets of Marrakech, tread ancient Berber paths in the High Atlas and discover the language, arts and cuisine of the Tuareg, Berber & Arab people.
This is journey you will not forget.
Tour Price: Twin Share per person AUD $9,730.00   Single per person AUD $11,395.00
Tour Starts: Casablanca
Tour Finishes: Casablanca
Tour Dates:  11 – 24 May 2024
Price Includes:
Fully escorted from Casablanca by Jemma Wilson, Founder Mai Journeys
12 nights in 4 star boutique accommodation
1 night in 4 star luxury desert camp
Breakfast daily
8 Lunches including the experience lunch on day 11
Welcome Dinner at Le Casablanca in Rabat
Farewell Dinner at L'Iglesia in El Jadida
Dinner at Riad Yasmine, Marrakech
Dinner at a local favourite in Marrakech
Dinner at Villa in Essaouira
Dinner at Inara Camp in the Agafay Desert
Dinner x 2 at the Kasbah in Ourika
Lunch at Rik's Cafe, Casablanca
Winery lunch outside of Essaouira
City Tour of Casablanca + Hassan II Mosque Sunset
Camel Ride – Agafay Desert (only if treated well)
High Atlas Mountains with Berber village visit
Women's Weaving co-operatives
Marjorelle Gardens in Marrakech + Berber Museum
The YSL Musuem, Marrakech
Photography Museum Marrakech
Perfume making at Musee du Parfume
Transport on tour in a private air-conditioned vehicle
All excursions & entrances as per itinerary
Ahmed – our fabulous Local Guide
Local Driver throughout
Group arrival & departure transfers (if on specified flights)
Not Included: Airfares unless stated in the itinerary; items of a personal nature; phone calls; passport and visas (if applicable); entry or departure fees charged at the airport; laundry or tips. Any transport outside of included transfers and activities; excess baggage; security and additional government taxes not covered already; travel insurance. Meals not specifically mentioned in the itinerary; beverages unless specifically described. Optional excursions or activities that may be offered but are not included in the tour price.  Any COVID required testing or documentation required by the countries of entry.
May 2024
DAY 1 – Saturday 11: Marhba to Casablanca…
Welcome to Morocco! Upon arrival into Casablanca, clear Customs and Immigration, collect your baggage, and proceed directly to the Arrivals Hall, where you will be met our representative and *transferred to our hotel. Check into our lovely accommodation, Le Casablanca Hotel, where we will stay for the night.
Enjoy an afternoon at leisure, indulge in the spa, take a swim or catch up on some sleep after your long-haul flight then join your fellow travellers for cocktails in the bar and a Hosted Welcome Dinner this evening.
Overnight Accommodation: Le Casablanca Hotel
Included Meals:  Welcome Dinner
DAY 2 – SUNDAY 12: Film lovers get inspired by the 1942 classic 'Casablanca"…
This morning after breakfast, we embark on a morning tour of Casablanca.
Before departing for Marrakech, we will stop for lunch at Rik's Cafe. Rik's is a romantic eatery inspired by the cafe in the 1942 film "Casablanca," with great cocktails & a piano. When you step inside you feel like you're going back in time to the 1940s.
We drive to the ochre‐coloured city of Marrakech and transfer to our gorgeous Riad where we will stay for the following four nights.
Settle in and then gather on the roof for sundowners before enjoying our candle-lit roof-top dinner.
Overnight Accommodation: Riad Yasmine
Included Meals:  Breakfast, Lunch, Dinner
DAY 3 – MONDAY 13:  Glorious gardens, YSL museum and the heart of Marrakesh…
After breakfast we will be driven to the world famous Marjorelle Gardens. This colourful garden surrounds the equally colourful villa that was once the private home of painter Jacques Majorelle. Full of cacti, bamboo and other rare and exotic plants, the gardens were lovingly restored by world famous fashion designer Yves St Laurent, whose dying wish was that his ashes be scattered adjacent to the villa, where he passed so much of his leisure time. You will have free time to wander this calming retreat. We will also visit the fascinating onsite Berber Museum. (And there will be time to shop in the stylish boutiques across the road.)
From here we will wander up the road and visit the YSL Museum – an incredible museum dedicated to the work of legendary fashion designer Yves Saint Laurent.
We have lunch at fabulous Le Kilim before we return to the Riad for a swim and some downtime.
Early evening, we depart for a guided wander through Jemaa el-Fnaa at sunset. For a thousand years, Jemaa el-Fnaa has served as a gathering place and market at the heart of Marrakesh. In the morning, stall owners set up their stands selling orange juice, spices, traditional medicines, mint leaves, and snails. The flutes of snake charmers drift across the square and tooth-pullers ready their pliers to pluck out the aching teeth of passers-by. Once the sun sets, Jemaa el-Fna really comes alive. Berber musicians and Gnaoua dancers begin their nightly performances, acrobats and slapstick comedians start performing all across the square, and henna tattoo artists vie for customers.
Overnight Accommodation: Riad Yasmine
Included Meals:  Breakfast, Lunch
DAY 4 – MONDAY 14: Explore, immerse and shop in the most fabulous Souks in Morocco…
Full day tour of the Souks! Today we enter the maze of alleyways and narrow streets that make up the souk. Here sellers offer everything from spice, sandalwood and black soap to clothing, baskets, leather goods, furniture, lanterns, fabrics, pottery and almost anything else you could wish for.
The souks of Marrakech are the largest in Morocco (over 3000 stalls) and famed throughout the world as some of the most exotic marketplaces to shop in. Prepare for all of your senses to be overwhelmed at once; the souks are the heart of the medina and have been the centre for trade in the city a thousand years. Even if you're not into shopping, the souks are still a spectacle that are well worth experiencing.
In between our exploring, we have lunch at Nomad. We return to our Riad this evening for some well-earned rest! This evening we will dine at the luscious Limoni.
Overnight Accommodation: Riad Yasmine
Included Meals:  Breakfast, Lunch, Dinner
DAY 5 – TUESDAY 15: A perfume workshop, a UNESCO site and the House of Photography Museum…
This morning we visit the Musee du Parfume. The perfumer Abderrazzak Benchaâbane founded the Museum, which opens you to the world of perfume art. From flask distillation to perfume organ composition, the various rooms of the museum describe the different stages of transformation of the raw materials used in the composition of perfumes, cosmetics and body care products.
We will create our own fragrance – exotic and Arabian in nature, think ingredients like musk, patchouli, jasmine and amber.
From here, we will visit the Ben Youssef Madrasa – built in the 14th century by as a religious school for Islamic studies, but it also served as a mosque and a library. It is now a UNESCO World Heritage Site
We then enjoy a long, lazy lunch at Le Jardin.
After lunch, we head to the fabulous Maison de la Photographie (House of Photography Museum). The Maison de la Photographie invites you on a journey in time, back to the Marrakech of the 19th Century. The changing exhibitions present treasures from the early days of photography. A cool drink (to own account) can be enjoyed on the lovely roof top of the Museum.
Your afternoon is free. Return to the Souks, shop some more, or simply rest up at our gorgeous Riad.
Overnight Accommodation: Riad Yasmine
Included Meals:  Breakfast, Lunch
DAY 6 – WEDNESDAY 16: A vintage sidecar through Marrakech and discover the hidden treasures of this beautiful city…
This morning we pack our bags and bid farewell to Riad Yasmine.
Before departing Marrakech, we head out on a fabulous experience: on a vintage sidecar! We meet our guide at the famous heritage building 'Le Grand Café de la Poste'. Our Insider Guide introduces us, thanks to an old map, to both the geography of the city and our tailor-made itinerary. Adjust your helmet, put on your sunglasses and hop on! In the Medina's beautiful maze, through the ancient French neighbourhoods or in the mythical palm grove, Marrakech is full of surprises. A vivid flea market, secret gardens behind closed doors, old art deco buildings or khettaras in the palm grove are just a few of the many hidden treasures we will introduce you to on this unusual open-air ride. There is no predefined program, this ride is made according to our desires and interests.
We will be dropped off at Plus 61 where we have lunch (own account), before transferring to Essaouira.
We have a three + hour transfer to our gorgeous accommodation for the next three nights – Villa Beldi, a former bourgeois house of the 1960s, built a few minutes away from the ancient medina of Essaouira. We check in and settle around the pool for a sundowner before our dinner – at the Villa.
Overnight Accommodation: Villa Beldi
Included Meals:  Breakfast, Dinner
DAY 7 – THURSDAY 17: The laid back and stunning Essaouira full of history, shopping and a fabulous Medina.
This morning after a lazy breakfast we transfer into the walled medina ‐ a UNESCO World Heritage site of seawalls and imposing ramparts, where we will discover colourful local artworks (Essaouira has long held an attraction for artists) and will have the opportunity to sample traditional Moroccan treats in the local pastry shops.
Essaouira has the cool breeze, blue skies, and laid back atmosphere that will relax and calm you. We have the day to explore and indulge in some Guided Shopping around the boutiques and concept stores before returning to our hotel for overnight.
The Medina is where all the life happens, where sipping a mint tea is a sacred moment, where the days follow each other between a hookah and the prayer of a muezzin; it is where most activities take place and where a walk in the small old streets is basically following the sounds of gnaoua music, a scent of amber and sandalwood, the smoke of a spiced couscous.
We have lunch in the Medina. Before returning to the Riad, we can drop in for a sundowner at Salut Maroc. (Own account) Return to the Villa for rest, relaxation and (another) sundowner. Your evening is free.
Overnight Accommodation: Villa Baldi
Included Meals:  Breakfast, Lunch
DAY 8 – FRIDAY 18: A free day to explore Essaouira. a spot of designer shopping, maybe a spa hammam is more up your alley or Moroccan cooking class, the day is yours…
Today is really free to do as you wish.
Return to the medina maybe? There is just so much to see in the Essaouira Medina and the best way to see it, is to simply wander. Discover silversmiths, textile artists, the Bayt Dakira Jewish Museum (which gives a great account of Jewish Moroccan history) and designer Boutique stores. Or swim/chill/relax, take a cooking class, surf lessons.
This afternoon can be all about hammam & spa. The hammam ceremony draws its sources from purification and beauty rituals known since antiquity. To create the treatments of a hammam, we have traced the history of the thermal baths and pierced the beauty secrets of Moroccan women who carry within them the traditions of a thousand-year-old art. This afternoon we abandon ourselves to this voluptuous parenthesis in a hammam which is embellished with treatments of which Moroccan women have held the secret for millennia.
Return to the Villa and our evening is free. Overnight Villa Beldi
Overnight Accommodation: Villa Beldi
Included Meals:  Breakfast
DAY 9 – SATURDAY: A Moroccan winery, a once in a lifetime luxurious desert experience and a peaceful camel* trek…
Today we are transferred to our gorgeous Tented Camp in the Agafay Desert.
After another lazy morning, we travel first to Le Domaine du Val d'Argan, a celebrated winery dating back to 1994. One of the country's most renowned wineries, we will have the opportunity to taste a selection of the delicious wines and eat a wonderful lunch.
Inara Desert Camp is set in the Agafay Desert in the foothills of the Atlas Mountains, an hour south of Marrakech. Get set for some serious escapism at this striking, secluded retreat. In the distance, the Atlas Mountains stand tall while the sun rises and sets in a spectacular fashion. At night, a gazillion stars fill the sky.
This evening you can enjoy a peaceful trek with the desert's most iconic animal. Arabian camels, known as dromedaries, differ to other species featuring a single hump rather than two. Our Berber guide will lead you away from the camp to enjoy breath-taking sunset views. At night the ambience of the desert comes alive as you relax to the sounds of traditional Berber musicians and enjoy the endless starry sky and peace of your desert surrounds.
*We are a Responsible Tour provider and if we ever see suggestive wounds or the owners being abusive towards the animal, we refuse to ride. And it is completely up to you as to whether you would like to ride or not.
Overnight Accommodation: Inara Camp
Included Meals:  Breakfast, Lunch, Dinner
DAY 10 – SUNDAY 20 MAY: The breath-taking Atlas Mountains and the best sunset in Morocco…
This morning we will travel to the Ourika Valley in the Atlas Mountains to our divine Kasbah. First, we stop at the gorgeous Beldi Country Club for lunch and a spot of boutique shopping. Surrounded by olives trees, Kasbah Bab Ourika perches majestically on a hilltop at the apex of the Ourika Valley, offering a bird's eye view of the Atlas Mountains, traditional Berber villages and of the lush river valley below. It guards the gateway to the snow-capped Mountains with awe inspiring 360-degree panoramic views and the best viewpoint to enjoy a Moroccan sunset. The setting is simply stunning, and the location makes it perfect for hiking, trekking, biking, rafting and horse-riding.
The Kasbah is an authentic mountain retreat constructed in the traditional Berber tradition with rammed mud walls. It is probably Morocco's most environmentally friendly hotel – something to revel in while we are enjoying the spectacular surroundings, exquisite cuisine and eco chic décor. The resident chef focuses on traditional Berber cuisine using fresh ingredients derived daily from neighbouring villages. Delicious Berber, Arabic and international meals are served in the shady gardens or colonnaded restaurant.
Our afternoon is free to take in our surroundings and simply relax. Tonight, we enjoy a Hosted meal in the Kasbah.
Overnight Accommodation: Kasbah Bar Ourika
Included Meals:  Breakfast, Lunch, Dinner
DAY 11 – MONDAY 21: A guided visit to High Atlas Mountain female artisans, a once in a lifetime experience
This morning we have an opportunity to visit female artisans in the High Atlas Mountains with our guide to assist with language and explanations. (This immersive excursion will be confirmed closer to departure.)
We then have a guided visit to a Berber Village, including lunch with a Berber family. After lunch we visit the village of Tafza and its pottery manufacturing.
We return to the Kasbah and your evening is free.
Overnight Accommodation: Kasbah Bar Ourika
Included Meals:  Breakfast, Lunch (if on experience)
DAY 12 – TUESDAY 22: A free day to enjoy the tranquil Atlas Mountains in the pool, maybe the spa or a hike is more up your ally…
Today can be spent simply enjoying your tranquil surrounds or choose an optional activity that appeals.
Days disappear easily at the Kasbah, spent either idling around the pool, reading in the garden or unwinding in the hammam. The spa is a space dedicated to wellbeing, relaxion and beauty. There is a selection of treatments on offer: massages, hammam, facial treatments and oriental manicure. The spa uses aromatherapy oils created by Nectarome, an organic garden neighbouring Kasbah Bab Ourika.
You can visit the Nectarome Gardens and see the aromatic, medicinal and ornamental plants that are grown. Discover thevirtues and secrets of the fifty or so endemic plants in the Garden and learn the properties and uses of these plants, their essential oils and hydrolats in the fields of beauty, health, cooking & decoration.
For the more energetic there is hiking, trekking, biking, rafting, and riding from the Kasbah.
Tonight we dine at the Kasbah.
Overnight Accommodation: Kasbah Bar Ourika
Included Meals:  Breakfast, Dinner
DAY 13 – WEDNESDAY 23: To El Jadida we go for our final night…
After breakfast this morning, we transfer to El Jadida for our final night.
The Portuguese fortification of Mazagan, now part of the city of El Jadida, was built as a fortified colony on the Atlantic coast in the early 16th century. It was taken over by the Moroccans in 1769. The surviving Portuguese buildings include the cistern and the Church of the Assumption, built in the Manueline style of late Gothic architecture. Mazagan is an outstanding example of the interchange of influences between European and Moroccan cultures.
Once we check into our lovely accommodation, L'Iglesia, we will take a walk around the ramparts and see the see the Portuguese Cistern. Located inside a restored Catholic church, L'Iglesia is a boutique hotel positioned right beside the ramparts of the old city. L'Iglesia's design is a mix of Portuguese and Moroccan traditions: smooth blue and white tile and elegant chandeliers, alongside rich colour and pattern, carved wooden lattices, arched doorways, and stucco walls. Most guest rooms are located inside the old convent, but a handful are in a newer annex that once housed the American consulate.
Tonight, we enjoy our magical farewell meal at L'Iglesia's restaurant, where a range of North African
cuisines are served in a charmingly old-world setting filled with antique mirrors and heavy porcelain dishes in wooden cabinets.
Overnight Accommodation: L'Iglesia
Included Meals:  Breakfast, Farwell Dinner
DAY 14 – THURSDAY 24: Time to say Farwell…
This morning our tour ends. Transfer to Casablanca Airport for your onward flights. Farewell!
Included Meals:  Breakfast
CASABLANCA
LE CASABLANCA, CASABLANCA
Located in one of the residential and green areas of the city of Casablanca, the Casablanca Hotel is thought of as an elegant and cozy private residence. The refinement of the place is revealed humbly under a panoply of details, all thought so that the beautiful and the pleasant provide comfort and well being.
MARRAKECH
RIAD YASMINE, MARRAKECH
Riad Yasmine is a small private boutique hotel situated in the middle of the Medina of Marrakech. The hotel is a classic Moorish riad with ornate design accents with Moroccan accents, free Wi- Fi, and polished en-suite bathrooms with traditional mosaic tiles. Breakfast is served in an elegant stucco dining room with a fireplace, and a central courtyard houses a tiled pool and sitting areas. There's also a rooftop terrace with sun-loungers and city views.
ESSAOUIRA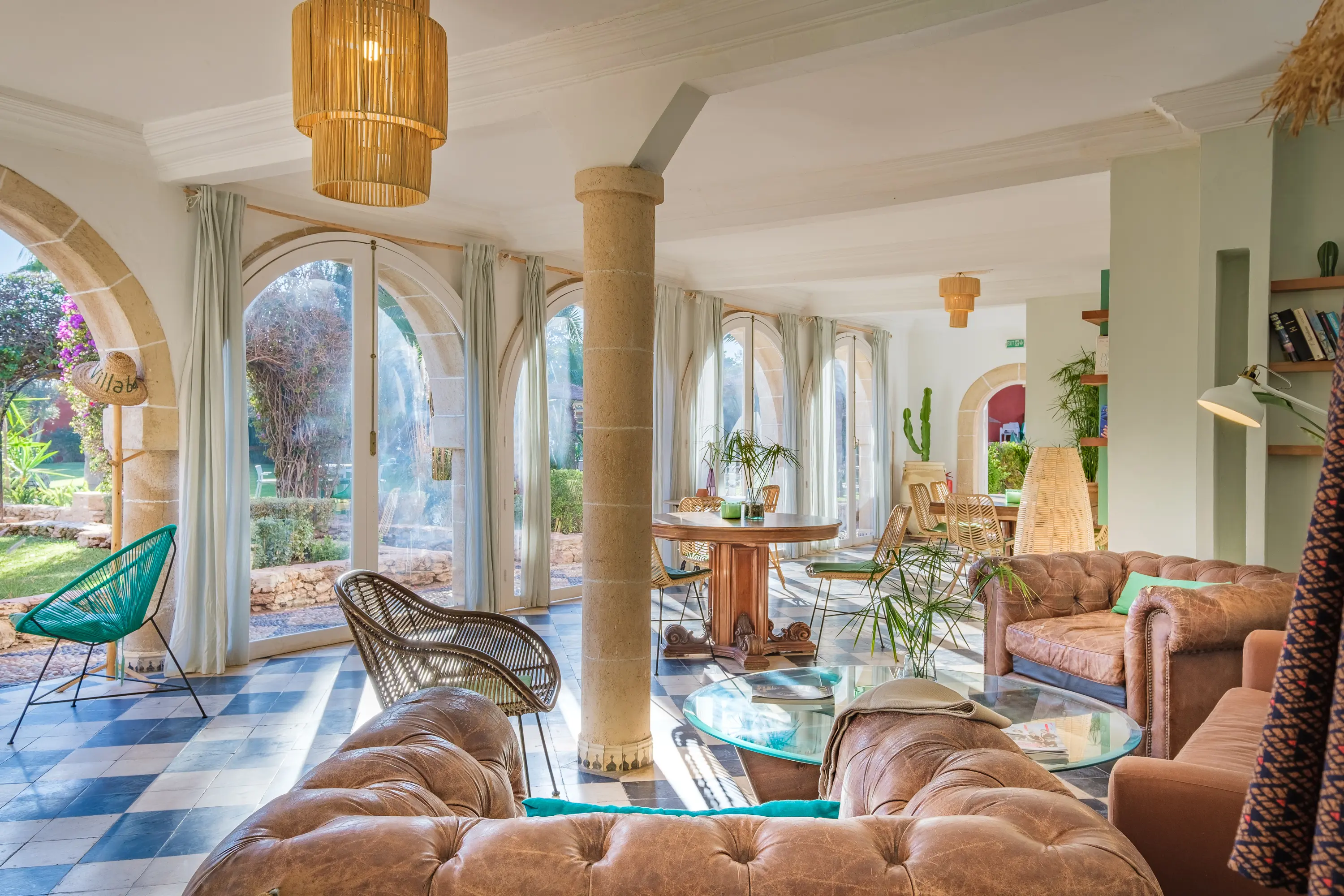 VILLA BELDI, ESSAOUIRA
Villa Beldi is a former bourgeois house of the 1960s. It is a charming, boutique hotel, renovated with care by highlighting natural materials and the latest sleek trends of Moroccan interior design. Bright and spacious, Beldi's rooms all have a private furnished outdoor space and are open onto the garden or the pool. The pool is an invitation to relax: cacti, palm trees, tropical and exotic plants, peacocks and turtles are all here for you to enjoy during your stay.
AGAFAY DESERT
INARA CAMP, AGAFAY DESERT
Located in the desert just outside Marrakech, Inara Tented Camp offers a secluded desert camp experience, where you can sleep in a berber tent under the starry sky. Accommodation is in private caidal tents, typically Moroccan in style, offering the classic desert experience but with added modern amenities. At night the ambience of the desert comes alive as you relax to the sounds of traditional Berber musicians and enjoy the endless starry sky and peace of your desert surrounds.
ATLAS MOUNTAINS
KASBAH BAB OURIKA
Set on a hill above the Ourika Valley, the location of Kasbah bab Ourika is unforgettable: on one side is a picturesque ridge of red rock in the Toubkal National Park; on the other, a handful of ochre villages dot fields swathed in olive and orange groves.
The Kasbah is built of rammed earth using an age-old Berber technique, set around an internal patio and with a walled pool and astonishing views where tables beckon for a sundowner. Days disappear easily here, spent either around the pool, reading in the garden or unwinding in the hammam.
EL JADIDA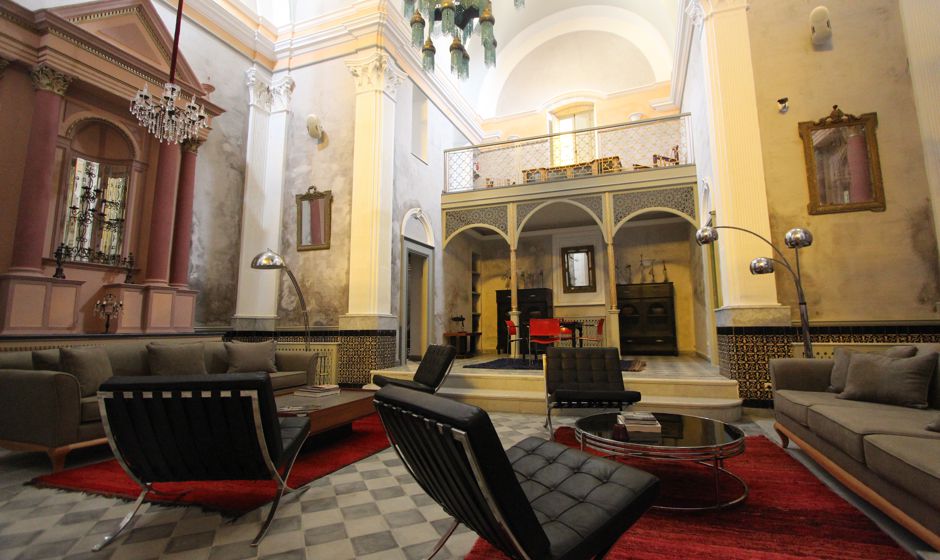 L'IGLESIA, EL JADIDA
The first charming hotel in the old portuguese city of El Jadida. L'Iglesia is a converted 19th century Spanish church, now decorated in a 1940s/50s style, overlooking the ocean and the old portuguese city, and also a seperate wing of the property is housed in the former US consulate, where the restaurant is located (with a large terrace next to the remparts).The hotel has an amazing view and each room has a different decoration.
Discover Moroccan luxury with lavish stays and exclusive experiences
Book now